Camp food doesn't have to be boring, but it doesn't have to be difficult either.  Here's some relatively simple recipes that will be camping holiday winners for you and your family this Easter.
Essential Equipment: 
Cast-iron Campfire Oven,  Aluminium Foil or disposable aluminium trays, Campfire!
1."I've Just spent 3 hours driving and 2 hours setting up so here's something I prepared earlier" Spaghetti Bolognaise:
Prepare this meal beforehand so you can reheat it easily when you arrive at your camping destination.  Most of you will have your own Spaghetti Bol recipe, but just in case we've included one below.
Ingredients
1 tablespoon olive oil
1 medium brown onion, finely chopped
1 garlic clove, crushed
1 teaspoon dried oregano
800g beef mince
2 tablespoons tomato paste
1/2 cup red wine (optional)
400g can chopped tomatoes
1 cup Campbell's Real Stock Beef
1 teaspoon caster sugar
Method
Step 1
Heat oil in a large heavy-based saucepan over medium heat. Cook onion and garlic for 3 to 4 minutes or until onion has softened. Increase heat to medium-high. Add oregano. Cook for 1 minute or until fragrant. Add mince. Cook, stirring with a wooden spoon to break up mince, for 8 to 10 minutes or until browned.
Step 2
Add tomato paste. Cook, stirring, for 1 minute. Add wine (if using), tomato, stock and sugar. Bring to the boil. Reduce heat to medium-low. Cook, partially covered, stirring occasionally, for 30 to 40 minutes or until thick. Season with salt and pepper.
2. Campfire Flatbread Pizzas
Kids will love this one, especially participating in making them.  This is another one of those "i can't believe I haven't thought of this before" meals for camping that is fun and easy.
Here's a breakdown of the basic ingredients.
Flatbread:
Naan bread, pita, Lavash, or foccacia bread. If you feel like experimenting, try premade pizza dough – just be sure to cook the dough first, and then add your toppings.
Sauce:
The basic version would be with a pizza sauce but if you want to get fancy, go for pesto or even a cream based sauce. For a sauceless alternative drizzle the bread with a nice olive oil and a sprinkle of salt and pepper.
Cheese:
You can't really go wrong here – mozzarella alone is great, or add a stronger cheese like parmesan, sharp cheddar, goat cheese or blue cheese.
Fresh Toppings:
Sliced tomato, onion, mushroom, pepperoni, slice chicken, sausage, olives, ham, capsicum, pineapple etc. One of my favourite variations is a "tuna pizza".  Pizza sauce, tinned tuna, sliced circles of red onion topped with cheese.  You'll be surprised!!
Garnish:
Fresh herbs, roasted garlic, olives, chilli flakes are some of our favourite options.
Bring everything to camp pre-sliced or make a group activity of it. The trick is to start by prepping your campfire so that by the time you are ready to cook your Campfire Flatbread Pizzas, you've got a good bed of coals and low to medium sized flames under the grill.
3. Easy Campfire Nachos Recipe
Who doesn't love Nachos? and cooking it when you are outdoors is very simple, and low fuss.  Of course you can make it as elaborate as you want, but our campfire Nachos is perfect for your next camping trip.
What you need:
Corn Chips
Grated Cheese
Jar of Salsa
Toppings (all optional)  Bolognese Sauce, olives, diced tomatoes, refried beans, diced onion, sour cream, guacamole
Disposable aluminium tray (or cook them in your campfire stove).
Al-foil
How to cook it:
Your campfire should have been going for a while, so that you have some good coals (but not too hot).  A grate placed over the coals, will elevate the pan, and stop burning on the bottom.  The grate is not essential though.
In the disposable tray, add your chips, salsa, toppings (like sauce, olives, beans) and spread grated cheese all over the top.      Some prefer to put the cheese on the chips and THEN the toppings….it all comes down to your personal preference.
Place aluminium foil over the top of your tray to protect the contents.    You might want to make the cover "peaked" so the cheese doesn't stick to the foil.
Put the now prepared tray on the coals, and wait for the cheese to melt, around 10 minutes.
You can eat out of the tray or empty onto plates, and add remainder of toppings like sour cream, etc.
Enjoy, and don't think about the calories!
Frankfurts in Damper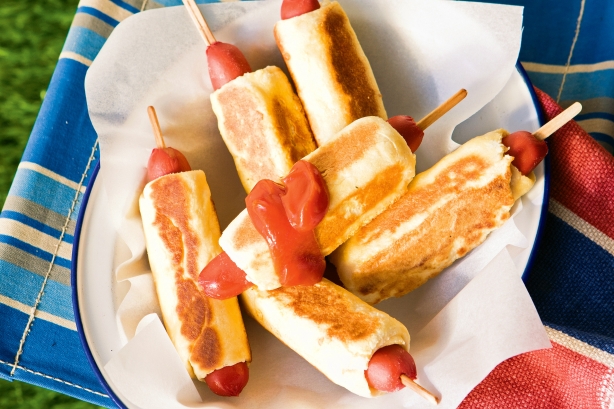 You'll need 6 paddle pop sticks.
Frankfurts in damper. Photo: Taste.com.au
Ingredients
2 cups self-raising flour
30g butter, chopped
3/4 cup buttermilk
6 frankfurts
1 egg, lightly beaten
Tomato sauce, to serve
Method Notes
Step 1
Sift flour into a bowl. Using fingertips, rub butter into flour until mixture resembles breadcrumbs. Make a well in the centre. Add buttermilk. Using a flat-bladed knife, stir until mixture forms a soft dough, adding more buttermilk if necessary. Turn out onto a lightly floured surface. Knead gently until smooth (don't over-knead).
Step 2
Divide dough into 6 equal portions. Roll 1 portion out to a 10cm x 16cm rectangle. Push 1 paddle pop stick into the end of each frankfurt (see picture). Place frankfurt in the centre of dough. Roll dough up to enclose frankfurt. Repeat with remaining dough, paddle pop sticks and frankfurts.
Step 3
Place a large, greased cast iron pot over high heat until hot. Brush dough with egg. Carefully place in pot. Cover with lid. Reduce heat to low. Cook, turning occasionally for 15 minutes or until golden all over. Carefully remove from pot. Serve with tomato sauce.
5. Too Easy Camp Foil Fries:
Liberally coat foil and lightly cover pre-cut potatoes with non-stick spray. Place the food in the centre of a large piece of foil, and sprinkle with seasoning of your choice. Close foil then roast the spuds in the BBQ or on a camp stove for 45 minutes.
What is your camping favourite?
Comments
comments