The super lovely Vanessa from Style and Shenanigans is guest posting for us today and sharing her top five items every school mum needs in their wardrobe.  You should totally check out her blog also because she is fabulous!! 
Just like the kids have their uniform to wear to school every day, so us Mums need to have a uniform of sorts for our busy days working and running around after the kids.
As a busy mum to three boys (aged 9, 7 and 4) and fashion and style blogger, I spend my days chasing after Mr 4, doing endless drop offs and pick ups and pounding the pavement around my local 'hood in between frequently interrupted episodes of sitting at the dining table tapping away on my Mac.
While I don't subscribe to any notion that Mums should all dress the same or feel pressure to dress a certain way – let's face it, we've got more than enough on our plates already – there are a few wardrobe basics that can provide the foundation for a whole lot of every day outfits for our days at home with the kids.
1. Ladder Weave Scarf in Yellow, $29.95 from Portmans; 2. Grunge Marle Tee (available in XXS to L), $29.95 from Sportsgirl; 3. Stuck on You Raincoat, $99 from Gorman; 4. Canvas Stripe Shopper, $29.95 from Sportsgirl; 5. Super Skinny Jeans in Dark Indigo, $39 from Target; 6. Amber Sneakers in Silver, $59.99 from Seed Heritage.
Wardrobe basics can save us a lot of stress and brain power on busy mornings because they can be mixed and matched in various combinations to create different looks with little effort.
For me, these pieces are what I reach for most days, particularly when I'm in the middle of referee-ing shenanigans, making lunches or wacking yet another load of washing on. All before 8am!
Above all, each of these pieces are comfortable, practical and available at a variety of price points and sizes.
1. A Great Pair of Jeans
Every Mum needs a great pair of jeans that feel comfortable and look good.
For me, I look for jegging style jeans with some elastane for stretch and to avoid that awful cut in half feeling.
As I spend a significant portion of my day bending over – putting shoes on, picking up toys, clothes, general debris and my preschooler – I also prefer high waisted styles, like (5) above, that provide support and modesty (i.e. sayonara muffin top and tradesman's smile).
Others may prefer a more relaxed boyfriend style jean or slouchy harem pants for every day comfort and practicality. Whichever style you prefer, finding a pair of jeans that you look and feel good in and are happy to wear several days a week is a great base for your every day wardrobe.
Target and Sussan usually stock a great range of jeans and I've found comfortable jeggings at Country Road. I've recently done a series on new season jeans too, if you're deciding on styles or interested to see what's around at the moment.
2. A Fab Pair of Flats
As much as I love a decent heel and vaguely remember a time pre kids when I wore them daily, I've had to come to terms with the fact that flats are here to stay and are a much more practical option for every day running around.
From trainers through to ballet flats, boots to brogues, once you find a great pair of flats that suits your wardrobe and budget, you are well on your way to rocking a great every day look.
I've found grey or white trainers like this Seed Heritage pair (6, above); silver brogues, a neutral coloured pair of ballet flats and black boots cover most conceivable every day scenarios.
Once you've covered these bases, you might like to throw in a little colour or interest to co-ordinate with your accessories (more on that below).
3. A Versatile Every Day Jacket
As a Mum, you can't escape the endless pick ups and drop offs for school, kinder, child care, activities, sport and the occasional play date.
You also can't escape the weather.
An every day jacket you can throw on over your outfit is a Mum must have, particularly in the southern states or tropical climates, where the rain usually falls at precisely 3.30pm.
Depending on wear you live and the season, a versatile every day jacket for you might be a light raincoat or anorak, a duffle coat, parka or a woollen coat.
Once you've worked out what level of water resistance and warmth you need, think about which colour or style might best suit your every day needs.
At this time of year in Melbourne, I find a light raincoat (like 3 above) or a denim jacket covers most bases and works back with the rest of my casual wardrobe.
4. Black and White Tees and Tops
Basic cotton t-shirts and tops in black and white are great basics that can be layered and worn in many different ways.
By adding a jacket, scarf or pair of statement earrings, the attention immediately goes to that addition, with the tee being the foundation piece needed for it all to work.
Both black and white tees go well with everything from jeans, denim skirts, trackie dacks through to black or printed pants.
I like the range of every day tees at Sportsgirl (2, above), Seed Heritage and Sussan but you can find them in almost any retailer and often under $20.
For example this Basic Rolled Sleeve T-Shirt, $19.99 from Glassons, this White Bonds Long Sleeved tee, $24.95 from Birsdnest.
It's worth stocking up (add a grey and another colour) when you find a style or price that suits.
5. Fun Accessories For a Pop of Colour
Bright studs, fun sunglasses, a coloured or printed scarf, like (1) above or a bag, such as (4) above, can provide a focal point to your outfit and create interest.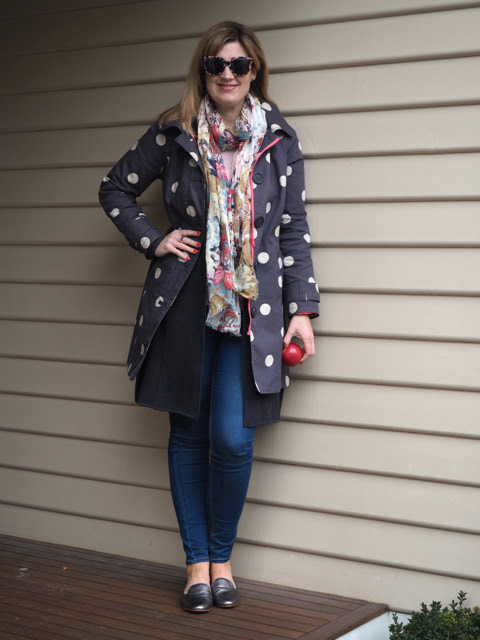 There are plenty of places to find them too including Lovisa and local markets for jewellery. Try Valley Girl, Portmans, Target and Forever New for well priced scarves. I'm currently crushing on this Birdie Tassle Scarf, $29.95 from Portmans.
Printed totes and canvas bags are easy to find too and add a pop of colour or fun whilst also being a practical accessory in which to stowe kids snacks, water bottles and other paraphernalia.
What are the must have pieces in your Mum-drobe? Where have you found great every day basics?
Comments
comments