My daughter turned 8 last week and wanted a……DISCO party!!
After my initial 'oh my goodness' moment, I thought…no this could work and be a lot of fun – AND IT WAS!
We sent out the invitations with a huge mirror ball on the front and encouraged guests to bring their dancing shoes!
So, if you find yourself in the same position of hosting a disco party, here are a few ideas you could consider:
Timing
We hosted our Disco party from 6pm to 8pm.  To be honest, this was the most exciting part for most of the girls who came as it was their first "night time" party.  We decided to hold it then because we wanted it to be dark enough for the mirror ball and lighting to be effective.
Welcome & Mingling
As guests were arriving we had some face-painting set up (thanks to our Aunty) – and she painted stars on their cheeks to get them in the disco mood.
We also had a bundle of glow sticks out that each guest could make into bangles (4 per dancer). AND a dance floor is not complete without groovy dancing glasses – so we had a bunch of different glasses the girls could choose from.  They were free to take these home at the end of the night.
Decorations
Well you could go crazy with this theme – lots of fluro, coloured lights and bling.
We had metallic fringed door curtains hanging behind the DJ that floated in the breeze and sparkled throughout the night. We also had 2 disco ball lights going that reflected lots of colours and shapes onto the ceiling.
Food
We kept the food really simple but had nibbles out as the guests arrived. These included chips, pretzels, popcorn, dip & vegies, berry kebabs, kebana & cheese, marshmallows etc.
We then fired up the BBQ and offered sausages in bread and salad for dinner.
For dessert, we had 'make your own' ice-cream sundaes with different topping and sprinkle options.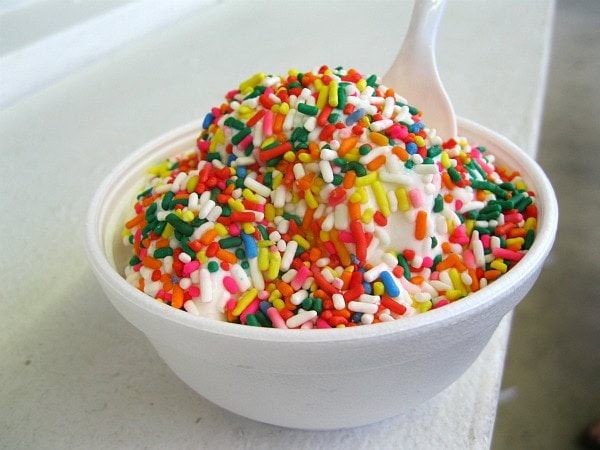 In terms of drinks, we had 2 large ice buckets full of pop tops and bottles of water.
Party Bags
Because the girls were already taking home glow bangles and disco glasses, we kept the party bags quite simple and included a few favourites like party poppers & Milky Ways and then a bubble wand each.
Music, Dancing & Playlist
We had 2 DJ's on the night (my 14yo nephews!!) – BJ the DJ and Nikki G.  They were great. They looked after all the music, dancing and games. We incorporated several dances that the girls knew so that they could do them all together – like the Macarena, YMCA, Chicken Dance & Agadoo.
Here is a copy of our Disco Party Playlist if you are hosting a disco party.
Games
For the games we had "Dance, Dance, Freeze" which is essentially statues.  The guests dance and when the music stops they have to freeze.  The last one in, is the winner.
We also played Limbo and had a quick competition where the guests showed their best dance moves (everyone won a prize for this one!)
We played a game of Monte Carlo where when the music stops the guests have to pick 1 of 4 corners of our backyard. If the dice rolled on your corner number (ie. 1-4) you were out.
We also had about 10 hula hoops in the backyard that the kids ended up using a lot – hula hooping along to the music.
Conclusion
All in all, it was a really FUN party. The girls danced non-stop and particularly liked the dances with actions like the Macarena and YMCA that they could all do together.
There was lots of excited singing along to the songs and giggling and my daughter has already requested another DISCO party!
Boogie Fever!! 
Comments
comments